Crest Immigration Consultants is one of the leading visa consultants providing overseas education and Canada immigration services to our valuable clients. Our commitment and dedication is reflected in our day to day work. The knowledge, expertise, wisdom, and competency acquired during all these years give us unprecedented leadership and a solid reputation.
We provide services for overseas education, immigration, spouse/dependent and other visa services for Canada, UK, Australia, New Zealand, Europe, and other countries. We believe in shaping the career of our clients with a lot of responsibility and care. Thousands of clients have made a successful career abroad through us. Whenever they come back they make sure to visit us for sharing their wonderful experience, it gives an immense delight and a deep contentment to see their happy face.
We are thankful to our clients for having the confidence and trust in us and connecting us to a chain of clients merely by reference. That's how much they value us..!! We appreciate all stakeholders for creating Crest Immigration into a leading brand name…
Over the years of experience, it has enabled us, to figure out the needs, demands, challenges, and obstacles faced by students and immigrants. With Crest Immigration, you are in safe hands. At each service level, we use the consistent and standard approach with customized solutions. Visa process remains standard as per the policy of each country. But then we make the difference- here comes our role as visa consultants and advisor to represent the applicant in the best possible way, giving a success ratio of 85% -90%. Reliability and ethical practices remain at the core of our company values.
It gives me an immense pleasure to serve you with the best in consultancy services. Over the years, Crest Immigration has evolved to reach and hold a unique position of pride amongst Visa Consultants. We have expanded our range of operations keeping in mind the ever-evolving educational and immigration environment and help find effective solutions to the hurdles faced by students/clients. A complete package is assured to all our clients' right from answering their initial inquiry, discussing every relevant detail and choosing the best course of action, effective implementation of the plan of action and watch them leave with a smile on their face.
I and my team would like to assure you of our constant endeavor to excel and reach new heights to give you the best services possible whenever called for. Best Wishes.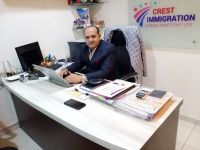 HIREN K PAREKH
DIRECTOR
CREST IMMIGRATION CONSULTANCY PVT LTD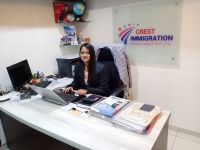 RUSITA H PAREKH
DIRECTOR
CREST IMMIGRATION CONSULTANCY PVT LTD
Join Over
1000+ Students

Enjoying Crest Immigration Services